The CoolSculpting® fat-freezing procedure is the only USFDA Cleared, leading non-surgical fat reduction treatment.* It uses controlled cooling to eliminate that stubborn fat that's difficult to shift, even with diet and exercise. So now there's a way to help you achieve your ideal look.
CoolSculpting® technology delivers precisely-controlled cooling to target the fat cells underneath the skin, whilst leaving the skin itself unaffected.† It doesn't use needles, and there is minimal downtime after treatment. CoolSculpting® is available in over 74 countries, and to date over 8 million treatment cycles have been carried out worldwide.
CoolSculpting by Dr. Bindiya

On any 5 Cycles of Cool Advantage or Cool Advantage Plus get 1 Advantage Cycle Free!!​
On any 8 Cycles of Cool Advantage or Cool Advantage Plus get 2 Advantage Cycles Free!!​
Terms & Conditions Apply*
Your Treatment Plan: Customised to Your Body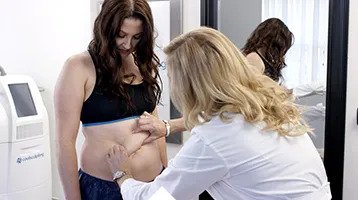 Everyone's body is different
Your CoolSculpting® physician will work with you on a treatment plan that's tailored to your needs. It may take as little as one clinic visit to achieve your goals. With different applicators to choose from, your physician can design a treatment plan to help achieve desired results.
Eliminate fat where the bulges bother you
For some people, a customised treatment plan may include more than one CoolSculpting® treatment. For example, you may want to freeze away fat from your inner and/or outer thigh, and then get rid of those stubborn "love handles" or "saddle bags". If you have limited time but have several areas of unwanted fat, some practices may even have multiple CoolSculpting® systems. Your physician will explain the process and establish if this is a suitable option for you.
Holistic approach to your body-sculpting transformation
Your physician will provide a clinical recommendation on which areas could be treated and how many treatments you may need to get the desired result. Treatment where you want it that can help you meet your body goals.
Formula for Calculating BMI
Certificate of Authenticity